The Islands; Bali and Lombok separated by Lombok Strait. If you travel on a budget, public ferry is the alternative mode of transportation to reach Lombok. It departs from Padang Bai (East Bali) to Lembar (West Lombok). Ferry service depart every interval of one hour, operating 24 hours, unless weather condition is bad, there will be no operations (suspended).
BALI TO LOMBOK
Public ferries' provide services for both passengers and vehicles. The trip normally takes four hours (but it can be considerably longer in poor weather).
This service runs 24 hours a day. It should be understood that this ferry has a poor safety record. While they are cheap, it can cost quite a bit extra to get to Padangbai so its worth comparing all alternatives.
---
Public Ferry from Lombok to Sumbawa, daily departure from Labuan Kayangan (East Lombok) to Pototano (West Sumbawa).
Travel time is approx 1,5 hour. Operating 24 hours non-stop unless weather does not permitted.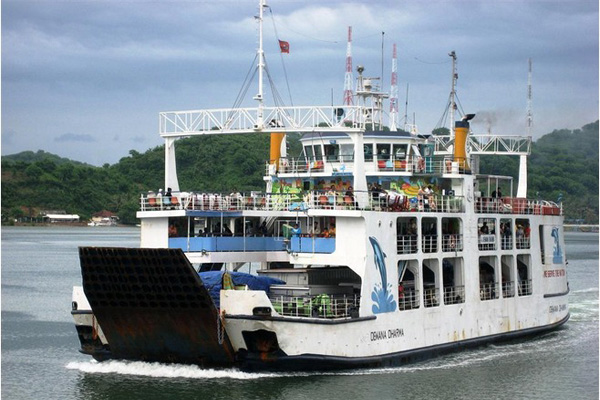 ---
Lembar Harbour (West Lombok Regency), Lombok Indonesia
Lembar in the south west of the island is Lombok's main port and handles small freighters, fishing boats and the combination vehicle and passenger ferries heading westward to Bali.
Padang Bai Harbour, East Bali Indonesia
Padang Bai is a small port town in East Bali, the port for ferry terminal from/to Lombok. Situated in Northeast of Gianyar 29 km, from Kuta 62 km, and from Denpasar 56 km. Padang Bai can be reached from Sanur in more and less 1 hour.
Kayangan Harbour (East Lombok)
Pelabuhan Kayangan is a port in eastern Lombok, best known as the port for ferries to the neighboring island of Sumbawa.
Ferries from or to Poto Tano Port, Sumbawa (1.5 hrs) 
---
Frequently Asked Questions
Q: How do we buy the ferry tickets?
A:  Just go show, pay at the harbour. Each ferry ticket will be stamped based on date of issuance.
Q: Can we buy the ferry ticket online or in advanced?
A: At the moment you can't buy them online or in advanced. 
Q: How is the ferry schedule and operating hours? 
A: In the normal days, the public ferry depart every hour, day time or night time, operating 24 hours. However, there's no fixed time of departure. All depends on the weather condition, loading during embarkation or disembark.
Q: Is this the ferry company?
A: No, we are not. We are just a travel company that provide useful information from various resources to help travelers. 
---
Indonesia is an archipelagic country that has more than 17.000 islands in the country of Indonesia. To connect between islands in need of transportation both sea and air transportation. However, due to the limited carrying goods and high cost to travel by air, sea transportation is the alternative as it is cheap and can carry heavy goods.
---
PENUMPANG / PASSENGER 
DEWASA / ADULT
IDR 46,000
PENUMPANG / PASSENGER 
ANAK-ANAK / CHILDREN
IDR 29,000
---
KENDARAAN RODA 2 (SEPEDA & MOTOR)
2 WHEELS VEHICLES (BICYCLE & MOTORBIKE)
KENDARAAN RODA 4 (PENUMPANG)
4 WHEELS VEHICLES (PASSENGERS)
GOL. I
SEPEDA/BICYCLE
IDR 63,000
GOL. II
MOTORCYCLE < 500 CC
IDR 129,000
GOL. III
MOTORCYCLE > 500 CC
IDR 250,000
GOL. IVa
SEDAN
IDR 917,000
GOL. Va
MINI BUS
IDR 1,780,000
GOL. VIa
BIG BUS
IDR 3,010,000
---
KENDARAAN PENGANGKUT BARANG (PICK UP / TRUK)
GOODS CARRIAGE VEHICLES (PICK UP / TRUCK)
KENDARAAN ANGKUT ALAT BERAT (TRAILER)
HEAVY DUTY CARRIAGE VEHICLES (TRAILER)
GOL. IVb
PICK UP
IDR 827,000
GOL. Vb
MEDIUM TRUCK
IDR 1,460,000
GOL. VIb
BIG TRUCK
IDR 2,398,000
GOL. VII
TRAILER < 12 M
IDR 3,057,000
GOL. VIII
TRAILER < 16 M
IDR 4,538,000
GOL. IX
TRAILER > 16 M
IDR 6,830,000
---
Prices subject to changes without prior notice (Harga dapat berubah-ubah sewaktu-waktu tanpa pemberitahuan sebelumnya)
---
---
Tips to avoid hassles at the harbor
During disembark from Padang Bai or arriving at Lembar Harbour, do not let a local porter take your bags/luggage unless you have negotiated absolutely what you will pay before he puts his hands on your bags. Best to avoid the service completely if possible as it can be fraught with complications over prices. 
Stay safe
The ferries used on the run between Lombok and Bali do not conform to many Internationally recognized safety and operational standards.
It is prudent to keep alert and be aware of your position and situation whilst on board and make yourself aware of the positioning of life preserving equipment.
If inside the main cabin or below decks try to ensure you orient yourself to the layout of the ships decks and emergency exits especially if travelling at night.
You should maintain a clear head and use caution at all times when embarking and disembarking as the decks and ramps can be slippery and the passengers can at times behave in a chaotic manner especially when disembarking.
Be aware that heavy vehicles as well as cars and motorbikes are moving onto and off the ships at the dock and will using the same loading ramp as the passengers. Be careful to keep track of your bags and watch out for pick pockets if in a crowd waiting to board or disembark.
Getting from Lembar Harbour
If you're arriving in Lembar and need a transport, you'll find the Lembar bemo drivers or local's public transports hard bargainers. 
If you want to be free from the hassles, you can pre-order a private transport /shuttle or taxi service (min. a day in advanced):
---
---