The Islands; Bali and Lombok separated by Lombok Strait. If you travel on a budget, public ferry is the alternative mode of transportation to reach Lombok. It departs from Padang Bai (East Bali) to Lembar (West Lombok). Ferry service depart every interval of one hour, operating 24 hours, unless weather condition does not permitted.
THE CORONA VIRUS UPDATE: the West Nusa Tenggara regional government has taken steps and anticipated measures and preventive to reduce the spread of this deadly virus.
Indonesia is an archipelagic country that has more than 17.000 islands in the country of Indonesia. To connect between islands in need of transportation both sea and air transportation. However, due to the limited carrying goods and high cost to travel by air, sea transportation is the alternative as it is cheap and can carry heavy goods.
Q: How long is the ferry crossing Bali-Lombok or v.v?
A: Total journey is 3,5 - 4 hours (approx) in normal weather condition. Seasonally during bad weather condition, it could takes up to 6 hours.
Q: Where can we buy the tickets? Can we book online?
A: You can buy the tickets at the ferry terminal. No need to reserve in advanced. First come first served. No online booking.
Q: Any timetable or schedule?
A: There's no fixed departure time. Every one hour, one ferry disembark then replaced with another ferry.
Public ferry for Bali-Lombok operates 24 hours.
Either you come late night or very early morning, there will be a space for you.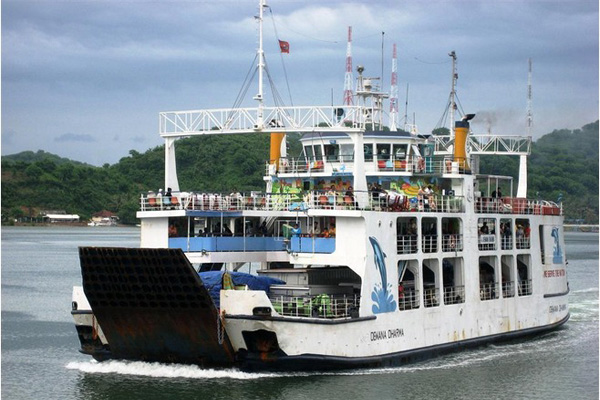 Q: Is this website belongs to ferry company?
A: No, it isn't. We are a travel company who sells tours, attractions, and vacation packages. We provide this information to be accessible by travelers to gain their memorable experiences in Bali and Lombok.
---
BALI TO LOMBOK
Public ferries' provide services for both passengers and vehicles. The trip normally takes four hours (but it can be considerably longer in poor weather). This service runs 24 hours a day. It should be understood that this ferry has a poor safety record. While they are cheap, it can cost quite a bit extra to get to Padangbai so its worth comparing all alternatives.
Padang Bai Harbour, East Bali Indonesia
Padang Bai is a small port town in East Bali, the port for ferry terminal from / to Lombok. Situated in Northeast of Gianyar 29 km, from Kuta 62 km, and from Denpasar 56 km. Padang Bai can be reached from Sanur in more and less 1 hour.
---
Explore Gili Islands in One day Trip From Bali
Incl. fast boat tickets, private boat trip, lunch, guide, return by domestic flight, all pick up and transfers...
All inclusive from $136  |  More details..
Gili Escape 2 Days 1 Night Package
See & explore the exotic of the gili islands...Get there fast, then take it easy...1 night stay at the hotel + return fast boat transfer from Bali direct to Gili T...
All inclusive package $118  |  More details..
Lembar Harbour, Lombok Indonesia
Lembar in the south west of the island is Lombok's main port and handles small freighters, fishing boats and the combination vehicle and passenger ferries heading westward to Bali.
Half Day Snorkeling Trip (New).....For Only $18
Daily Snorkeling Trip for those who stay in Gili Trawangan inclusive of: shared boat trip, snorkeling equipment, free pick up by horse cart (min 2 pax) from hotel to the jetty...
Available tomorrow for $18  |  Book Now
---
Question: During bad weather condition, are the ferries still run/operate?
Answer: Yes it does, but the schedule might not fixed and many delays. In this conditional weather condition, first come first served apply. All technical handling and departures available at the port. You should come and go show yourself.
Question: Any advises for the best way to go to Gili Islands from Bali since the fast boats suspended / banned due to high waves?
Answer: If the domestic flights are fully booked and your only option is to travel by regular public ferry, then follow this simple guidance; take a taxi or private transfer to Padang Bai harbour in East Bali, then buy the tickets at the ticketing counter there and wait. Bring some snacks and drinking water to calm you during waiting because long line of waiting may occur. Keep on eye of your belongings. Don't leave anything unattended. Once you are already on board, book a taxi or private transfer in advanced (via whatsapp or web) because you'll encounter some hassles upon arrival at Lembar Port if none is coming to pick you up. You'll need a transport to exit Lembar Port go to Bangsal or Teluk Nare. Please note that Bangsal closed at 05.00 pm, so make sure you come in time or earlier. But if you insist to get to gili islands same day, then take a private transfer from Lembar to Gili Island which includes car/van + private speedboat. Private transfer service can take you to the gili even at night because they are using private speedboat charter instead of public boat from bangsal.
---
---
PENUMPANG / PASSENGER ONLY
DEWASA / ADULT:................ IDR 46,000
ANAK-ANAK / CHILDREN:.....IDR 29,000
---
SEPEDA & MOTOR (BICYCLE & MOTORBIKE)
Group I: Sepeda Gayuh (Push Bike)...... IDR 63,000
Group II: Motorcycle < 500 CC:..............IDR 129,000
Group III: Motorcycle > 500 CC:.............IDR 250,000
Harga diatas termasuk penumpang/orang. 
The above price includes people/rider.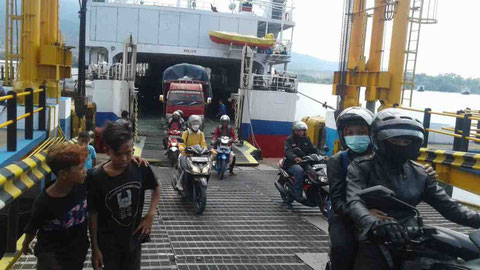 ---
KENDARAAN PENUMPANG (CARS & BUS)
Group IVa: SEDAN, SUV, MPV:............IDR 917,000
Group Va: MEDIUM SIZE BUS:............IDR 1,780,000
Group VIa: BIG/JUMBO SIZE BUS:......IDR 3,101,000
---
KENDARAAN BARANG (PICK UP & TRUCK)
Group IVb: MOBIL PICK UP:............IDR 827,000

Group Vb: MEDIUM TRUCK:............IDR 1,460,000
Group VIb: BIG TRUCK:...................IDR 2,398,000
---
TRAILER & ALAT BERAT (HEAVY DUTY TRUCK)
Group VII: TRAILER < 12 M:............IDR 3,057,000

Group VIII: TRAILER < 16 M:...........IDR 4,538,000
Group IX:TRAILER > 16 M:..............IDR 6,830,000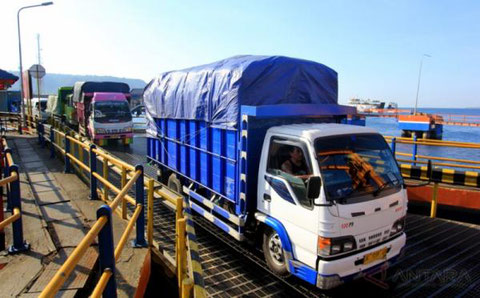 Harga diatas termasuk penumpang/orang. The above price includes people/rider.
---
Prices subject to changes without prior notice (Harga dapat berubah-ubah sewaktu-waktu tanpa pemberitahuan sebelumnya)
---
Public Ferry from Lombok to Sumbawa, daily departure from Labuan Kayangan (East Lombok) to Pototano (West Sumbawa).
Travel time is approx 1,5 hour. Operating 24 hours non-stop unless weather does not permitted.
Kayangan Harbour (East Lombok)
Pelabuhan Kayangan is a port in eastern Lombok, best known as the port for ferries to the neighboring island of Sumbawa.
Ferries from or to Poto Tano Port, Sumbawa (1.5 hrs) 
---
Travel Tips & Advises When Traveling with Public Ferry (to avoid hassles at the harbor)
During disembark from Padang Bai or arriving at Lembar Harbour, do not let a local porter take your bags/luggage unless you have negotiated absolutely what you will pay before he puts his hands on your bags. Best to avoid the service completely if possible as it can be fraught with complications over prices. 
Stay safe
The ferries used on the run between Lombok and Bali do not conform to many Internationally recognized safety and operational standards.
It is prudent to keep alert and be aware of your position and situation whilst on board and make yourself aware of the positioning of life preserving equipment.
If inside the main cabin or below decks try to ensure you orient yourself to the layout of the ships decks and emergency exits especially if travelling at night.
You should maintain a clear head and use caution at all times when embarking and disembarking as the decks and ramps can be slippery and the passengers can at times behave in a chaotic manner especially when disembarking.
Be aware that heavy vehicles as well as cars and motorbikes are moving onto and off the ships at the dock and will using the same loading ramp as the passengers. Be careful to keep track of your bags and watch out for pick pockets if in a crowd waiting to board or disembark.
Getting from Lembar Harbour
If you're arriving in Lembar and need a transport, you'll find the Lembar bemo drivers or local's public transports hard bargainers. 
If you want to be free from the hassles, you can pre-order a private transport /shuttle or taxi service (min. a day in advanced):
---
---