Mataram also attract visitors of its great taste of culinary. Food stalls are colouring the main street by night time. Never leave the island without a short visit to this beautiful town. 
Traveling is incomplete if you don't taste the specialties. In fact, Lombok has a variety of foods that are known to be delicious and unique, a truly authentic Lombok culinary.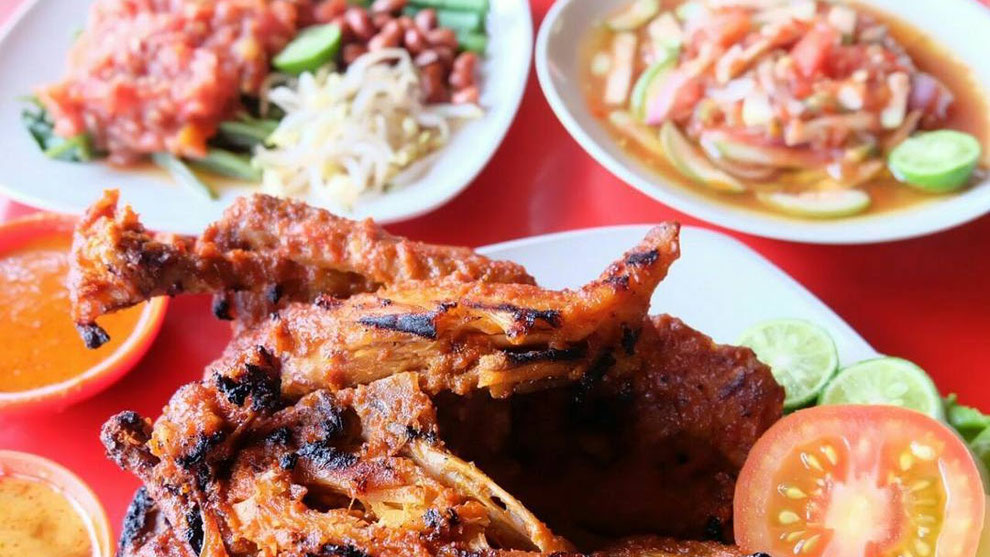 Let's start with the delicious specialties of Lombok; Ayam Taliwang. Its grilled or fried chicken served with steam rice, salad (beberok), pelecing kangkung (water spinach mixed with coconut, peanut, sambal) and seasonal veggy soup.
Taliwang Restaurant (+62 370 622394), Jl. A. A Gede Ngurah No.26, Cakranegara Timur, Kec. Cakranegara, Mataram, located near the Cakranegara traditional market, is the oldest and legendary known. Occupying one of the small blocks of shops, this place is often unseen from outside or certain distance, during busy time, visitors having difficulty in parking. Forget this place if you come in a large group by tour bus. Not far from here, about 2 minutes walk, across the street there is a legendary snack and bakery shop; Mirasa Bakery (+62 370 633096). This takeaway shop over various kind of cakes and traditional Indonesian sweeties. If you are a seafood connoisseur, not far from there is Rumah Makan 99 (+62 81933138188) which specializes in seafood dishes, located on Jl. Subak III No.10, Cilinaya, Kec. Cakranegara, Mataram. Friendly prices, fish, crab, shellfish and various other seafood are cooked freshly, clean toilet, a large parking area. perfect for group.
Are you a meat lover? Don't worry, not far from there, only 2 minutes walk, there is the famous Oxtail Soup; Sop Buntut Istana Rasa (+62 370 637684), Jl. Subak III No.21, Cilinaya, Kec. Cakranegara, Mataram, West Nusa Tenggara 83239. Order in advanced via telephone because this family running restaurant is run-out of their stocks if you're late.
Still around cakranegara, for those who love Oriental Chinese Food, don't miss; Hongkong Kitchen (+62 370 647081), next to Mataram Mall, Jl. Palapa No.2A, Cilinaya, Kec. Cakranegara, Mataram. These places are located close together, perfect to visit when you are finished shopping.
---
Some places are also quite legendary because of their unique taste, but are only open at certain hours, among them:
Warung Nasi Cim S.M.A.K. (+62 370 622817), Jl. Maktal No.15A, Cilinaya, Kec. Cakranegara, Mataram, is a hangout place as well as a favorite dining place for elite school students in Cakranegara, namely SMA Kesuma. This place is popular as a place for breakfast. Moving slightly to the city center near the center of government, there is a beef soup specialist, Rumah Makan Kelebet (+62 81339786972), Jl. Hos Cokroaminoto No.10, Monjok Timur, Kec. Selaparang, Mataram, is open only during breakfast and lunch hours. Usually before 12.30 it is closed because it runs out.
Along Jl. Selaparang Cakranegara during the day it becomes a business center, at night it turns into a culinary center, starting from 18:00PM till late, lots of food stalls offer various kind of local specialties from fresh grilled chickens, seafood, etc. Prices are very reasonable. Good quality of food at local price. Check out Soto Ayam Kampung Cak Iwan, located in front of SMAK Kesuma, or for seafood lovers try Seafood 88 opposite the road.
---
For those who like horse meat, you can come to Warung Masteng (+62 81917021000), Jl. TGH. Faesal No.102, Turida, Kec. Sandubaya, Mataram. This place serves horse meat soup menu every day.
There are also those that offer special interest menus such as Sate and Goat Curry; Restaurant & Lesehan Manalagi Haji Imran (+62 81917391046), Sayang Sayang, Kec. Cakranegara, Mataram (Dine-In or Takeaway), or Hajat Restaurant (+62 87865501948), Jl. TGH. Lopan No.26, Bagik Polak, Kec. Labuapi, West Lombok, or Warung Sate Muslim, Jl. Hos Cokroaminoto No.32, Monjok Tim., Kec. Selaparang, Mataram, or Warung Sate La Tansa (+62 81907355888), Jl. Banda No.5, Dayan Peken, Ampenan, Mataram, or Sate & Gulai Kambing Istimewa Abah Nabel, Jl. Tumpang Sari, Cakranegara Timur, Mataram
Nasi Balap Puyung, originally was an Inak Esun who sold in the middle of her village in Puyung, Central Lombok from morning to night with a consistent menu and taste and affordable prices for the surrounding community. Its delicious taste and low price have made it known throughout the village to out of town. Until finally his close relative took the initiative to create a branch in Mataram, which immediately became in demand and has now spread everywhere.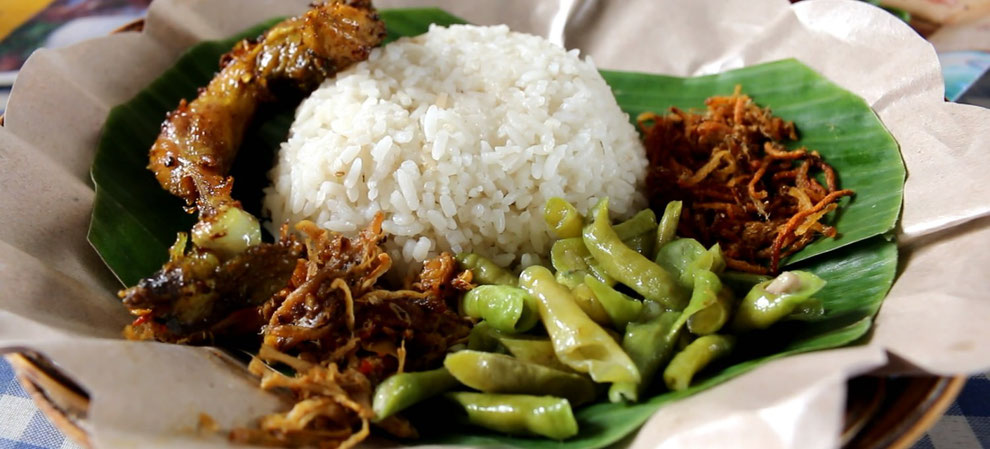 Sate Rembiga; at first, Rembiga Beef Satay only sold for iftar and sahur side dishes in the month of Ramadan, but over time, the delicious, savory and tender taste made customers addicted so that there were more and more enthusiasts, often causing traffic jams due to queues. The famous are: Sate Rembiga Ibu Sinaseh (+62 81917991747), Jl. Dr. Wahidin No.11B, Rembiga, Kec. Selaparang, Mataram and Sate Rembiga Ibu Hj. Napisah (+62 817362082), Jl. Dr. Wahidin, Rembiga, Kec. Selaparang, Mataram.
Sate Bulayak Narmada, made from beef or chicken or beef offal, the unique thing is in the special spices concoction and its complementary menu, namely Bulayak. Bulayak is rice cake tied using coconut leaves. This food is usually a dish for those who have picnics by the beach or city parks.
If you make noodles into your favorite dish, don't miss eating at Mie Ayam Djakarta, Ampenan old town (+62 87782429499); Jl. Yos Sudarso No.2, Bintaro, Kec. Ampenan, Mataram. The noodles are homemade, maybe the one that's really authentic and original. A bit pricy, but really good taste. Ampenan used to be a port city. Now there are many food stalls, especially seafood at affordable prices for local city-dwellers.
For those who like meatballs, here are some places that we recommend:
Bakso Haji Kardi Kebon Roek (+62 87739554413), Jl. Saleh Sungkar No.65, Ampenan Utara, Kec. Ampenan, Mataram. What is unique here is the addition of veal veins in each portion of the meatball which makes it special.
Bakso Widodo Cemare, Jl. Hos Cokroaminoto, East Monjok, Kec. Selaparang, Mataram.
Warung Bakso Kamboja, Jl. WR. Supratman No.10, Mataram.
Warung Bakso Jalan Banteng (+62 81805237378), Tourism Street, Pejanggik, Mataram
---
---
---